Three amazing films of three different genres were released on this Eid-ul-Azha, and all three contended for the interest of people, with "Jawani Phir Nai Ani 2" emerging victorious among them. The box office collection for JPNA 2 was 10.72 crore followed by "Parwaaz Hai Junoon" and then in the end came Load Wedding with the lowest box office earnings.
The director of this film, Nabeel Qureshi blamed cinemas for movie not doing well. He also posted a screenshot of the movie timings of Universal Cinema Multan where the movie had only one show. He calls this as "dhandli" which is pretty much a big claim to make.
He says "Bohut dhaandli hai !!!! Sab cinemas main …. this is what you get – after making a film which is in national interest which talks about change of norms !! Socially relevant ! Anti dowry !".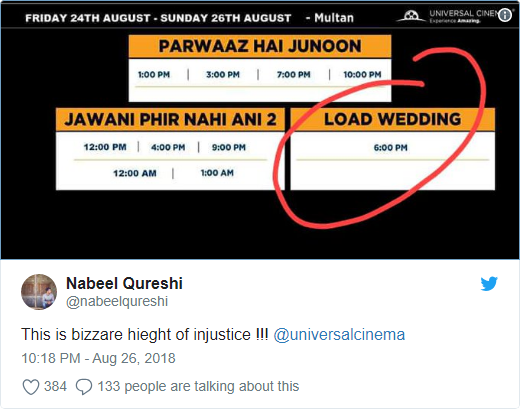 It does not seem fair to blame cinemas if the movie is not going well, but there were some people who agreed with him for this reason.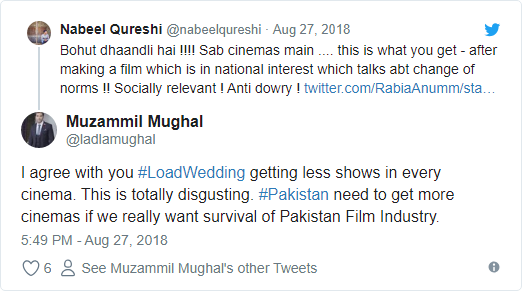 And there were some people who thought who thought that this wasn't the reason for the failure of movie.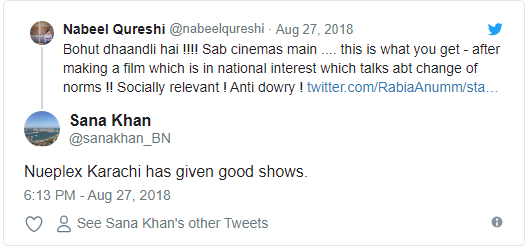 People said that the film was boring as compared to the other two films, some said that the reason of failure can be releasing it with 2 other films or the distributors.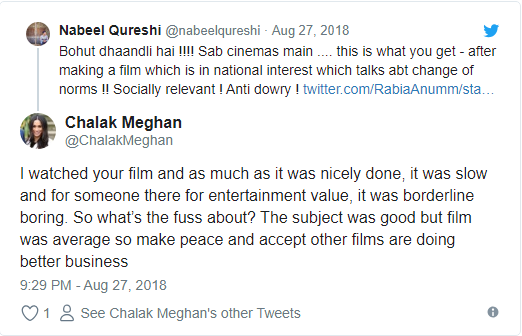 At the end of the day, the success of movies depends on the interest of people. People are rushing to the cinemas to watch JPNA 2 and Parwaaz Hai Junoon because they find more interest and entertainment in them. You can't blame any cinema for movie not going well. The story of movie is not that bad, but maybe it wasn't the right time for its release or its story was a little bit boring as compared to the other two.
Is it right to blame Cinemas for the movie not doing well at Pakistani Box Office? Let us know in the comments!