The country's top accountability watchdog on Friday arrested the Pakistan Muslim League-Nawaz (PML-N) President and former chief minister of Punjab Shahbaz Sharif, over his professed involvement in a multi-billion rupees housing scam, the Ashiyana-e-Iqbal Housing Project. That housing scheme was a totally corrupt game. 3 of the dealers started their work in that scheme but didn't go so long.
NAB gets hold of key documents for investigation on Ashiana and Metro projects
Shahbaz, who is also the Leader of Opposition in the National Assembly, was arrested by the National Accountability Bureau (NAB) inside its Lahore office where he was summoned to record his statement before a combined investigations team in connection with the Punjab Saaf Pani Company case.
NAB produced Shahbaz Sharif today (Saturday) before an accountability court for remand. Some supporters of PML-N blocked the GT Road for every type of traffic.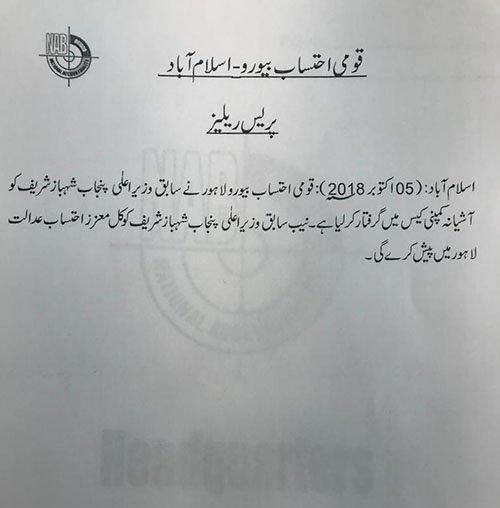 Today NAB brought Shahbaz to the court, in their own vehicle. They entered him from the private doorway because their supporters were at the front gate. People gathered around that vehicle and pumpkin Shahbaz, many times he loses his balance. Court handed over Shahbaz Sharif to NAB on 10 days physical remand.
In the investigation that followed, Fawad and Shehbaz appeared together, during which the latter said he would bring proof. Subsequently, NAB granted time to Shehbaz to gather proof, but he could not produce anything. Therefore, the anti-graft body summoned him today in the Saaf Pani Company case, which is one of the 56 companies being investigated.
According to the statement, NAB has sufficient evidence to prove the involvement of the former CM in the commission of offences as defined under the section of 9(a) and Schedule of the NAB 1999. It said that Shahbaz, as Punjab CM, illegally assumed powers of the Punjab Land Development Company's (PLDC) Board of Directors.
Chaudhary Nisar and Maryam Aurangzeb were so exasperate at this act and claim it as a trap for PML-N.
Fawad Hassan Fawad also get arrested which is the second biggest arrest by NAB in Ashiana Housing Scam, is also the principal secretary of Shehbaz Sharif.