This is an exciting time for music-lovers in Pakistan. Pepsi Battle of the Bands continuing its 3rd season with a new pool of amazing contestants. Compared to the previous seasons, a lot more bands have participated this year, astounding the judges with their mind-blowing talent. But there is one band, Xarb, that has been causing quite a stir after their rendition of 'Dam Mast Qalandar' last week. They've gained quite a fan-following and are getting famous everyday due to their amazing vocals and compositions.
Xarb's members; Mubeen, Saud and Qamar (the lead vocalist), are all Universty of Electrical and Technology (UET) graduates. They were all right out of college and wanted to find jobs, but the volaitle market certainly made it hard for them. Fortunately, Mubeen learned to play the guitar the year he graduated from the university. Previously, they routinely used to play with Ahsan and Rahim, who then shifted to Badnaam, which were last year's runner-ups. With their lives as graduates setting in, the boys found it difficult to pursue their music. In fact, it was Saud who joined them all together and formed Xarb.
In terms of response, they expected to get some attention but never imagined it being so crazy. However, the band has been trying to clear up the air by mentioning that they are a Contemporary band, and not exclusively a Sufi one (Even though they have been performing songs that are regarded quite Sufiana).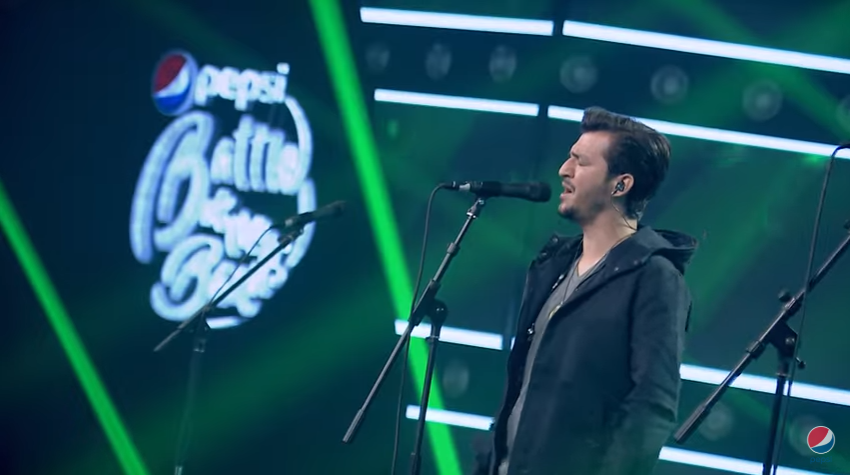 In the last week's episode, the band tried to drive this home by trying to show their contemporary side. With the episode's challenge being to perform originals, Xarb took advantage of the opportunity to leave the Sufi sound behind, and go for the contemporary.. The judges loved their innovation for being different and gave props for their song. While Xarb and Tamasha were clearly going to the next round, Kaghaaz, DejaVu, Bayaan were in the danger zone which included double elimination in a single episode. After all that, the judges finally announced that Xarb, Tamasha, Bayaan and 21 were moving to the next round.
We're wishing best of luck to all the remaining bands, because the competition is only going to get more tougher from now on.