Facebook has added a new "Plane reaction" ✈️ easter egg in their mobile app. It took us a while to figure out, but it's not that hard. We have lined the steps below, so try it out yourself:
1. Update your Facebook App
For now, the Plane Reaction is only available in the latest version of Android Facebook app, but soon it might be available on the iPhone/iPad apps too.
2. Kill & Restart Facebook
You can do that by sliding and closing the app from the App List on Android. Once the app is killed, re-open facebook.
3. Open the Comments of the Post you want to react to
Now find a post you want to add the plane reaction to. The reaction still won't appear in the reaction list when you hold down the like button. So open the comments of the post.
4. Hold down the Like Button in the Comments
There is another Like button in the comments. When you hold down it, you'll see the ususal reactions, but this time with two "Angry Reacts".


5. Tap on the Second Angry React
Once you tap on the second Angry Reaction, it will convert into a Plane Reaction. Yep, the second Angry reaction is in fact the Plane Reaction.

5. And Done!
Now take in the glory of that sweet, sweet plane react.

Bonus
Since you've come this far, here's Plane react meme for you ✈️✈️✈️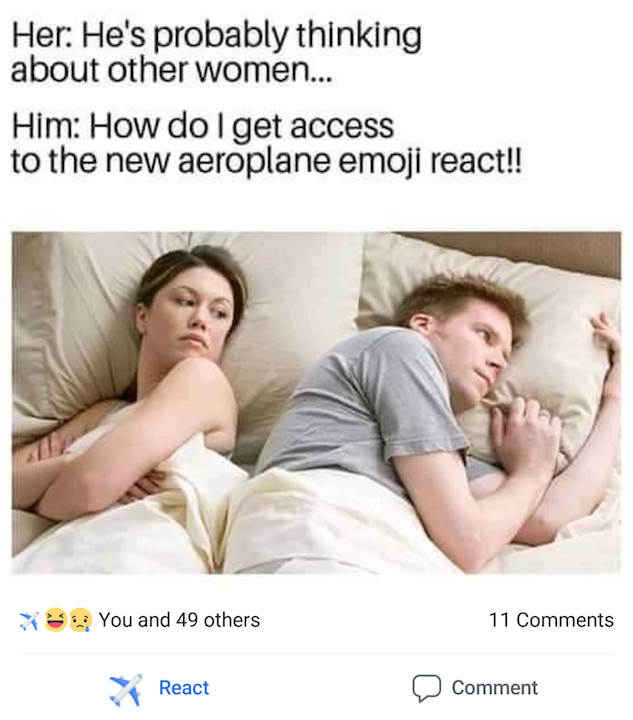 Hope this helped. If you are still having issues, leave us a comment below and we'll try to help you out.